The 17 Campaign

Visionary Leaders willing to champion a goal for the sake of humanity.
The Faces Behind the Goals
Who We Are
---
People relate to familiar faces rather than corporate facades. That's why we have started a movement to add humanity to the story of sustainability.
"The 17" Campaign pairs influencers with the causes they are most passionate about, turning them into ambassadors for the Sustainable Development Goals.  These iconic figures inspire us all to choose a goal of our own and proclaim #17Now.
Ted Danson
I AM FOURTEEN
---
LIFE BELOW WATER
At Oceana, we work to win policy victories that will help save the oceans and feed the world. The same things we do to help restore healthy, vibrant marine ecosystems will also help wild fish populations thrive, providing more than a billion people a healthy seafood meal, every day, forever.
Ted Danson
Actor/Board of Directors
Oceana
Jostein Solheim
I AM TEN
---
REDUCING INEQUALITIES
At Ben & Jerry's, Linked Prosperity business model compels to source fair trade ingredients and pay a livable wage to all their employees. We believe reducing inequalities at our company and in our supply chain is a small step towards reducing inequalities everywhere. Help create a #brightFuture. There's never been a better time. Learn more at https://www.unileverusa.com/
Jostein Solheim
Head of Unilever Foods and Refreshment Division, North America
Former CEO at Ben & Jerry's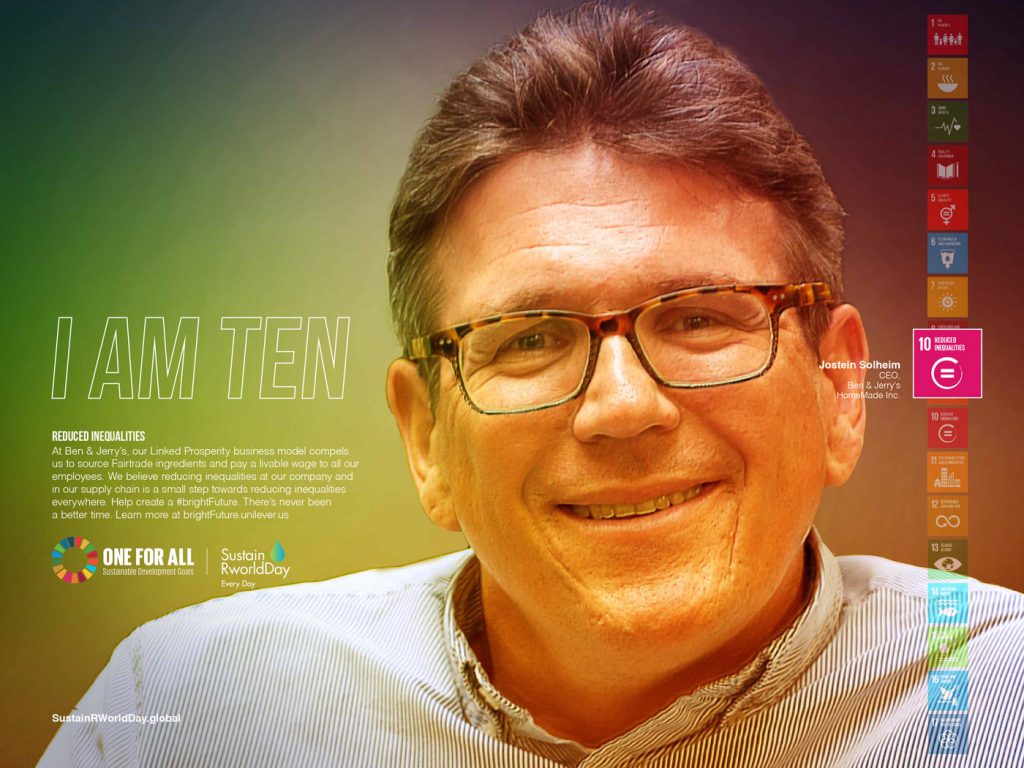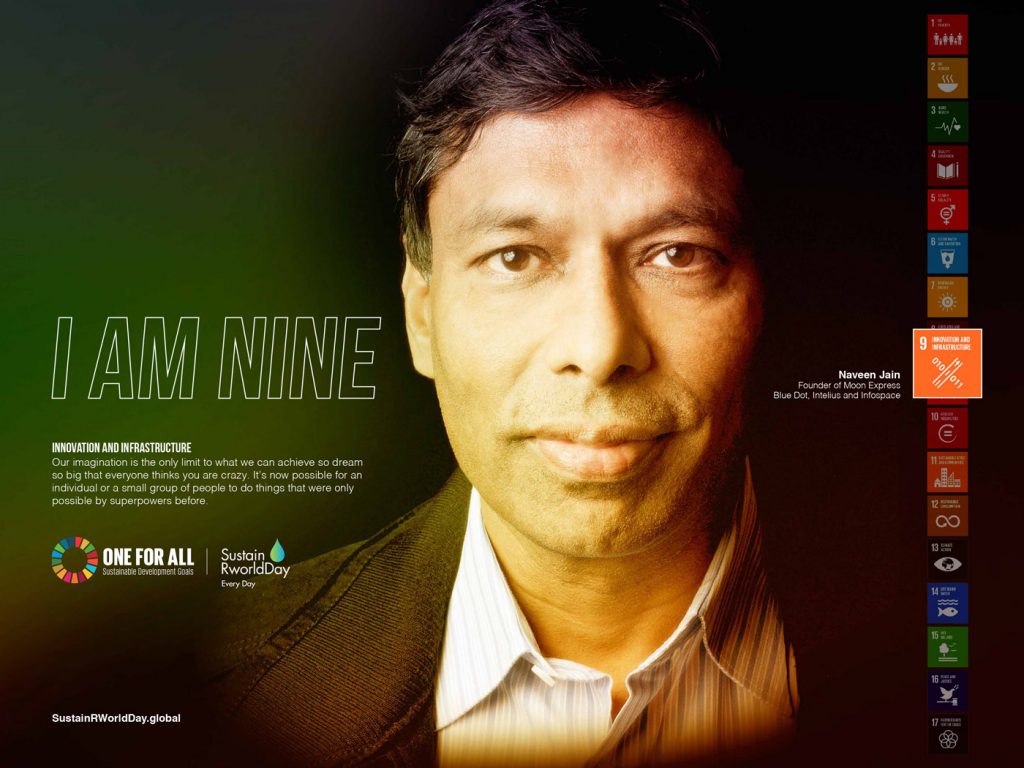 Naveen Jain
I AM NINE
---
INNOVATION & INFRASTRUCTURE
Our imagination is the only limit to what we can achieve so dream so big that everyone thinks you are crazy. It's now possible for an individual or a small group of people to do things that were only possible by superpowers before.
Naveen Jain
Founder of Moon Express, Blue Dot, Intelius and Infospace
Eileen Fisher
I AM TWELVE
---
RESPONSIBLE CONSUMPTION
I believe that by choosing clothes that are responsibly made, you make a statement about what you value, one purchase at a time. It's a small act, but one that changes the way business is done. Your choice has power.
Eileen Fisher
President / Founder
Eileen Fisher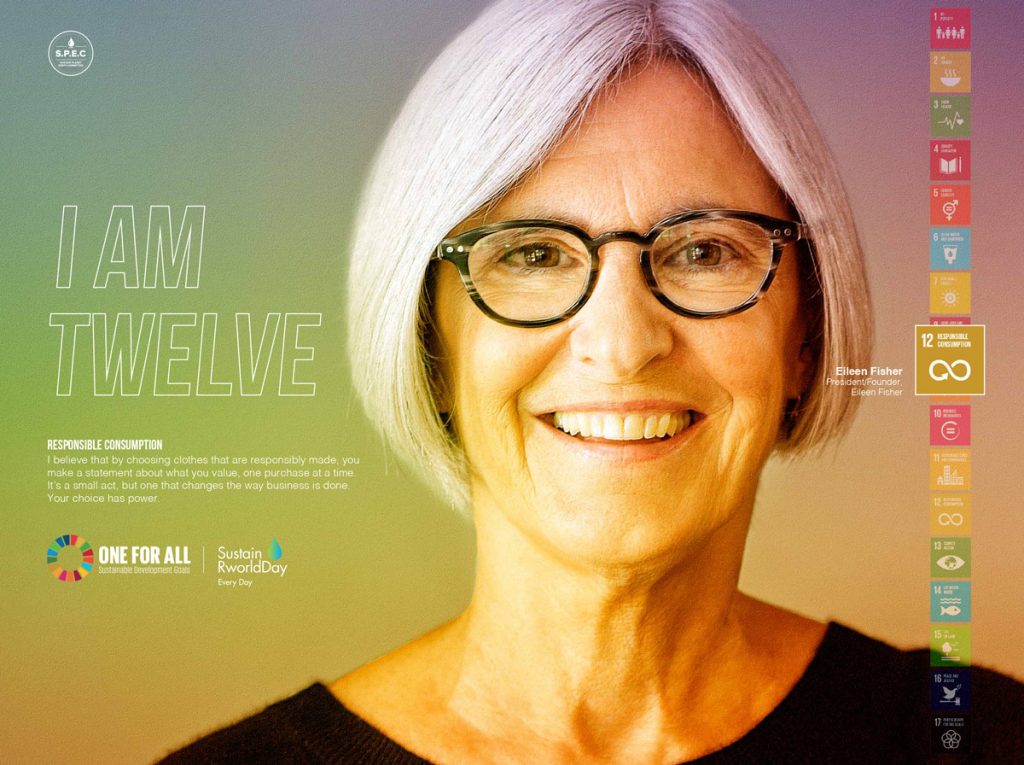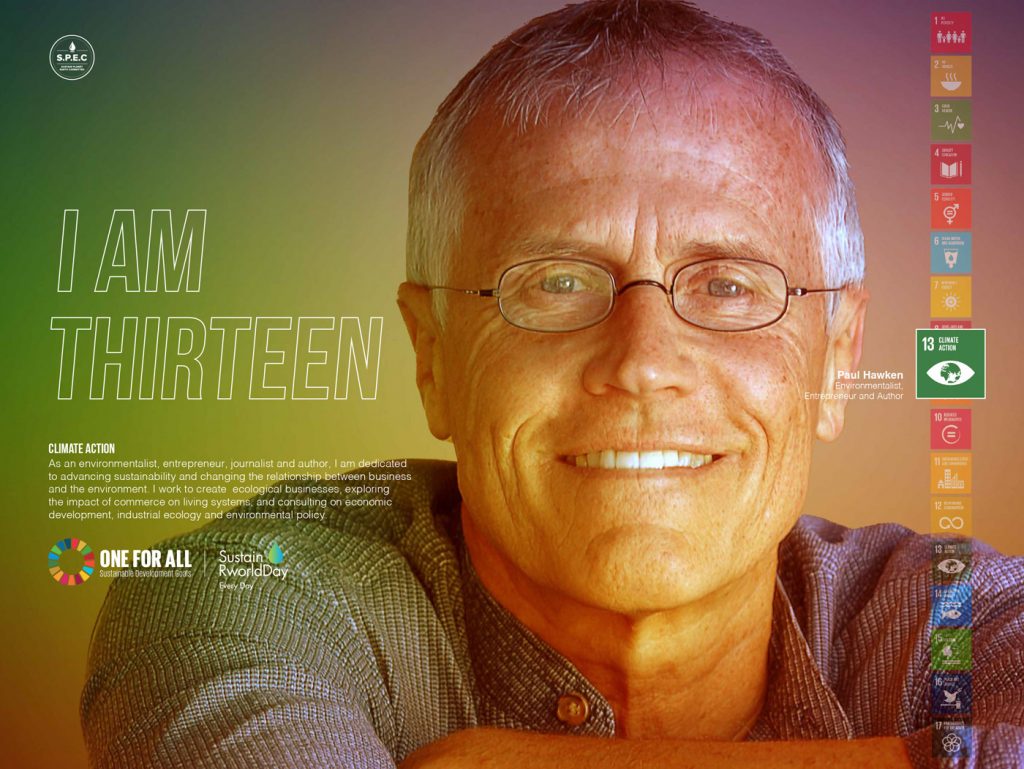 Paul Hawken
I AM THIRTEEN
---
CLIMATE ACTION
As an environmentalist, entrepreneur, journalist and author, I am dedicated to advancing sustainability and changing the relationship between business and the environment. I work to create  ecological businesses, exploring the impact of commerce on living systems, and consulting on economic development, industrial ecology, and environmental policy.
Paul Hawken
Environmentalist
Entrepreneur & Author
Jigar Shah
I AM SEVEN
---
RENEWABLE ENERGY
As a clean energy entrepreneur and author, I pour my efforts into building market solutions and destroying market barriers to climate change. Together, with your help, we can grow and reap the benefits of "climate wealth".
Jigar Shah
President & Co-Founder
Generate Capital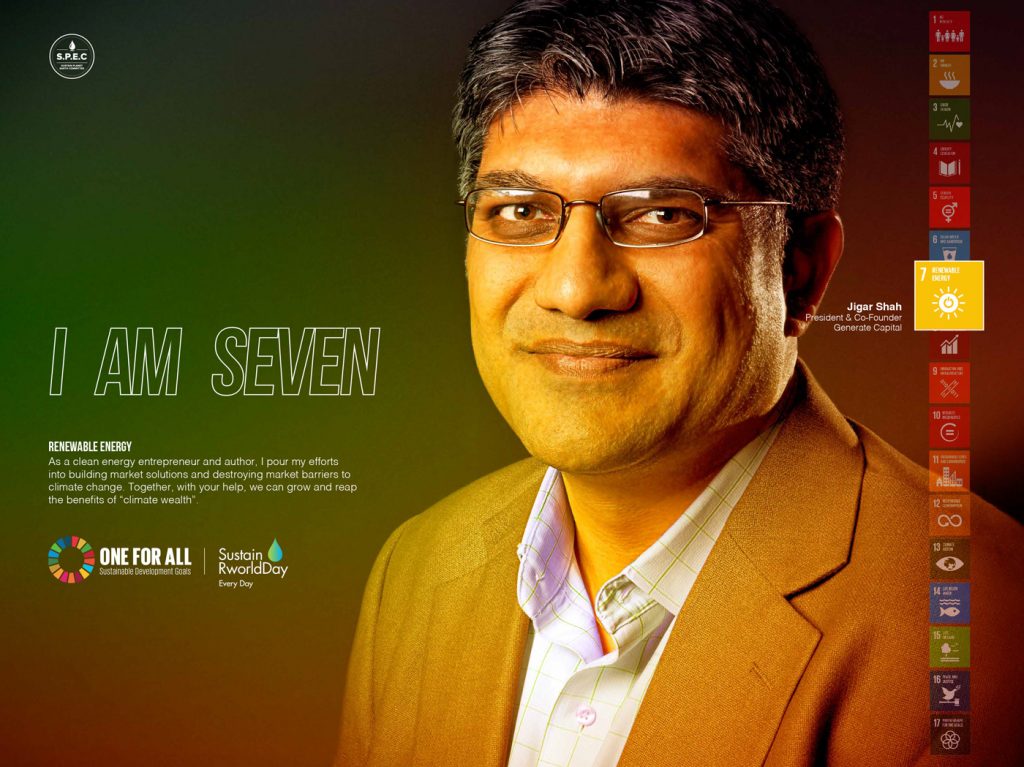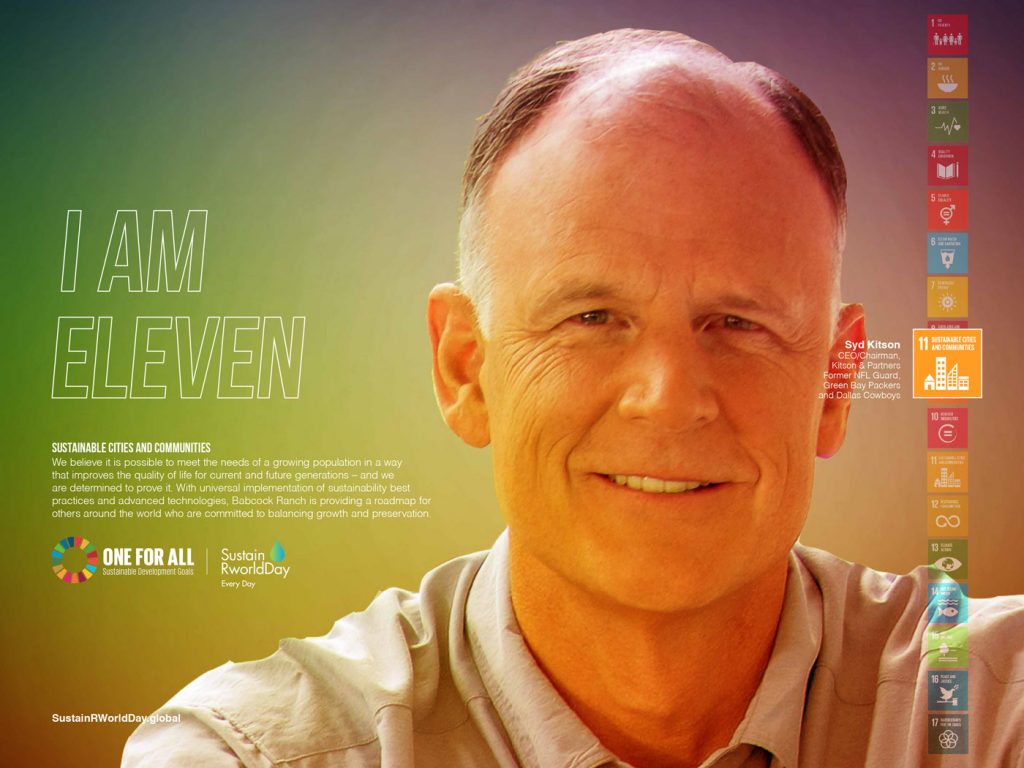 Syd Kitson
I AM ELEVEN
---
SUSTAINABLE CITIES & COMMUNITIES
We believe it is possible to meet the needs of a growing population in a way that improves the quality of life for current and future generations – and we are determined to prove it. With the universal implementation of sustainability best practices and advanced technologies, Babcock Ranch is providing a roadmap for others around the world who are committed to balancing growth and preservation.
Syd Kitson
CEO/Chairman
Kitson & Partners Former NFL Guard, Green Bay Packers and Dallas Cowboys
Erika Karp
I AM EIGHT
---
GOOD JOBS AND ECONOMIC GROWTH
As the CEO of Cornerstone Capital Group, a Director of the Sustainability Accounting Standards Board, and an advisor to the World Economic Forum, I advocate for the establishment of environmental, social and governance (ESG) disclosure standards and call for corporate transparency. Together, with your help, we can start making real progress toward a more regenerative and inclusive global economy.
Erika Karp
CEO & Founder
Cornerstone Capital Group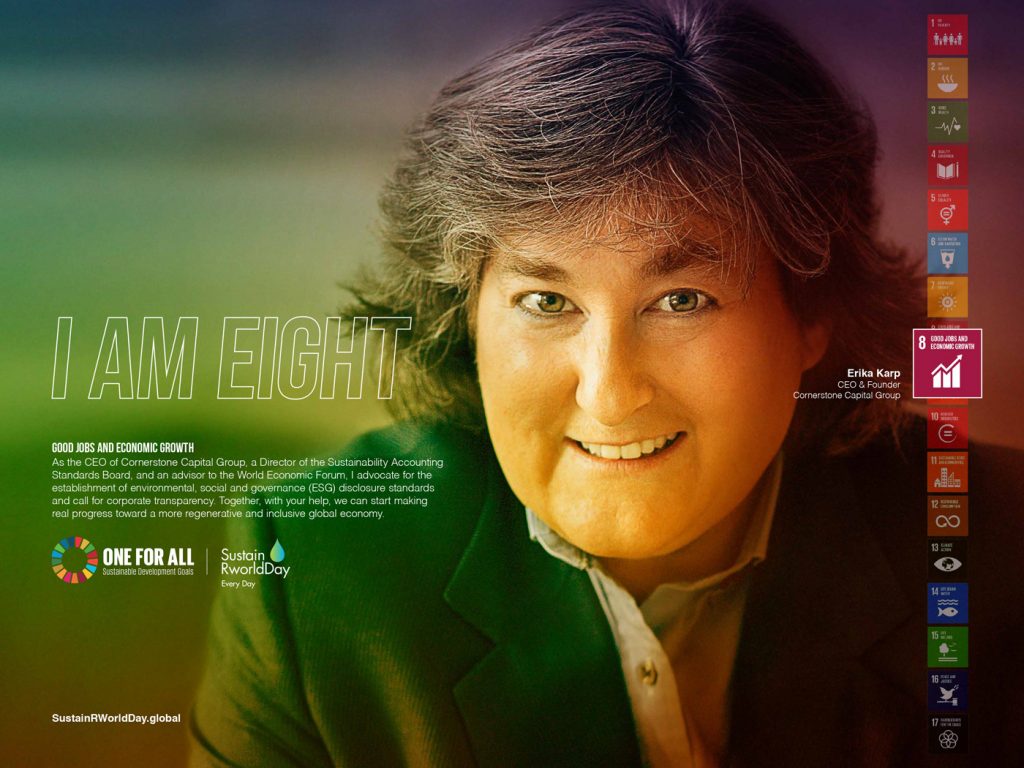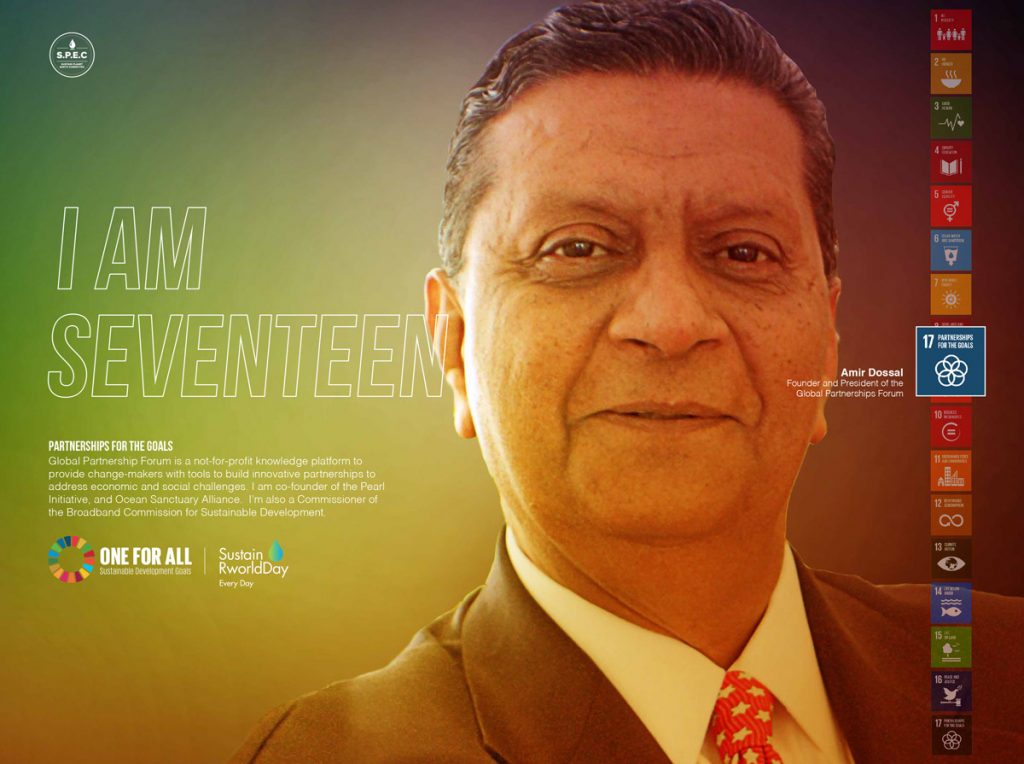 Amir Dossal
I AM SEVENTEEN
---
PARTNERSHIP FOR THE GOALS
Global Partnership Forum is a not-for-profit knowledge platform to provide change-makers with tools to build innovative partnerships to address economic and social challenges. I am co-founder of the Pearl Initiative, and Ocean Sanctuary Alliance.  I'm also a Commissioner of the Broadband Commission for Sustainable Development.
Amir Dossal
Founder and President of the Global Partnerships Forum
Nasreen Fatema Awal
I AM FIVE
---
GENDER EQUALITY
As Founder, President and Advisor of the Women Entrepreneur Association of Bangladesh (WEAB), I work toward establishing a support system for women in positions of leadership. Together, with your help, we can level the playing field for everyone.
Nasreen Fatema Awal
Founder/President & Advisor Women Entrepreneurs Association of Bangladesh and Founding Director of Multimode Group